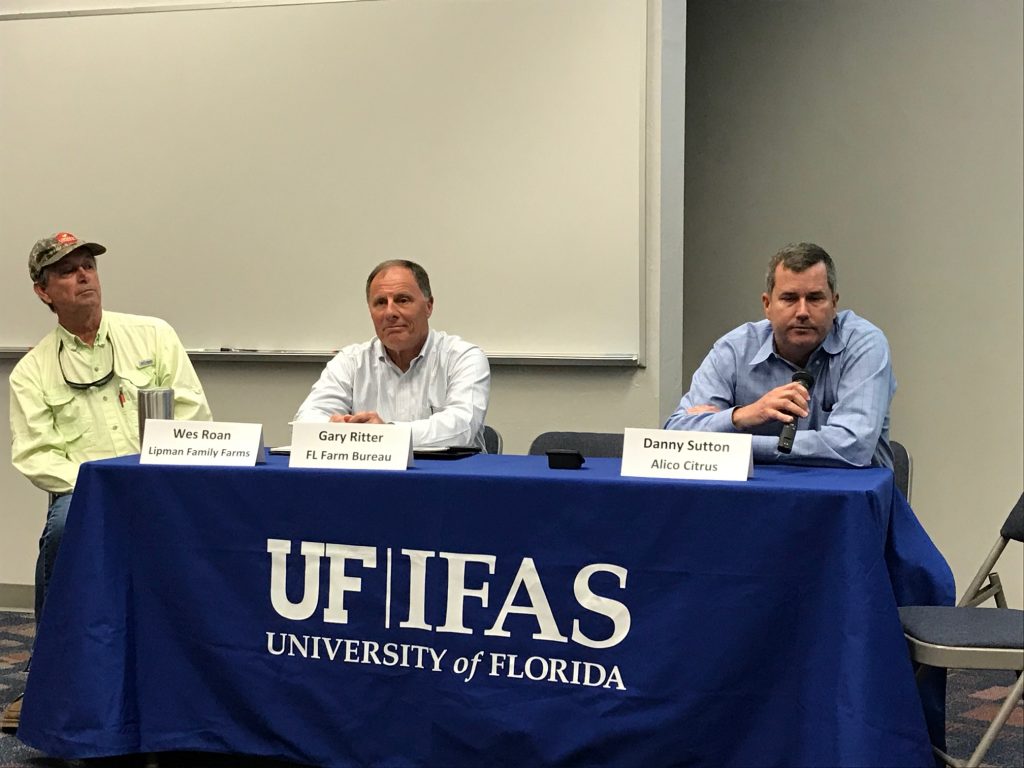 By Ernie Neff
Two growers participating in a Dec. 16 program about local agricultural issues shared some of the best management practices (BMPs) their companies employ. The event was hosted by the University of Florida Institute of Food and Agricultural Sciences (UF/IFAS) Southwest Florida Research and Education Center (SWFREC) in Immokalee.
Danny Sutton, president and general manager of Alico Citrus, said Alico sprayers and spreaders use variable rate technology to apply inputs at the correct levels. He said HLB disease changed the way citrus reacts with the environment and that additional production costs to cope with HLB have hurt profitability.
Wes Roan, crop protection and food safety manager for Lipman Family Farms, said his company has participated in UF/IFAS research and will continue to participate. His company implements the highest level of technology in its delivery systems, which helps the company spend less money. Roan said his company has been composting to create better soil and increase water-holding capacity, among other benefits. He called for enhanced research to develop good BMPs.
SWFREC Director Kelly Morgan said the majority of growers statewide participate in BMPs. "The BMPs give them a presumption that as long as they are doing the BMPs that are prescribed, they will have water quality going off of their fields that follow within the state guidelines," he said.
Morgan added that SWFREC has 13 faculty working on research. "We are actively participating with growers to develop best management practices so that we will have minimal impact of agriculture on the environment," he said.
The program about agricultural issues also included presentations from two UF/IFAS researchers and two Florida state representatives. The researchers discussed the success of the BMP program in the Everglades Agricultural Area and payment for water storage and treatment services in the northern Everglades.
Hear more from Morgan: