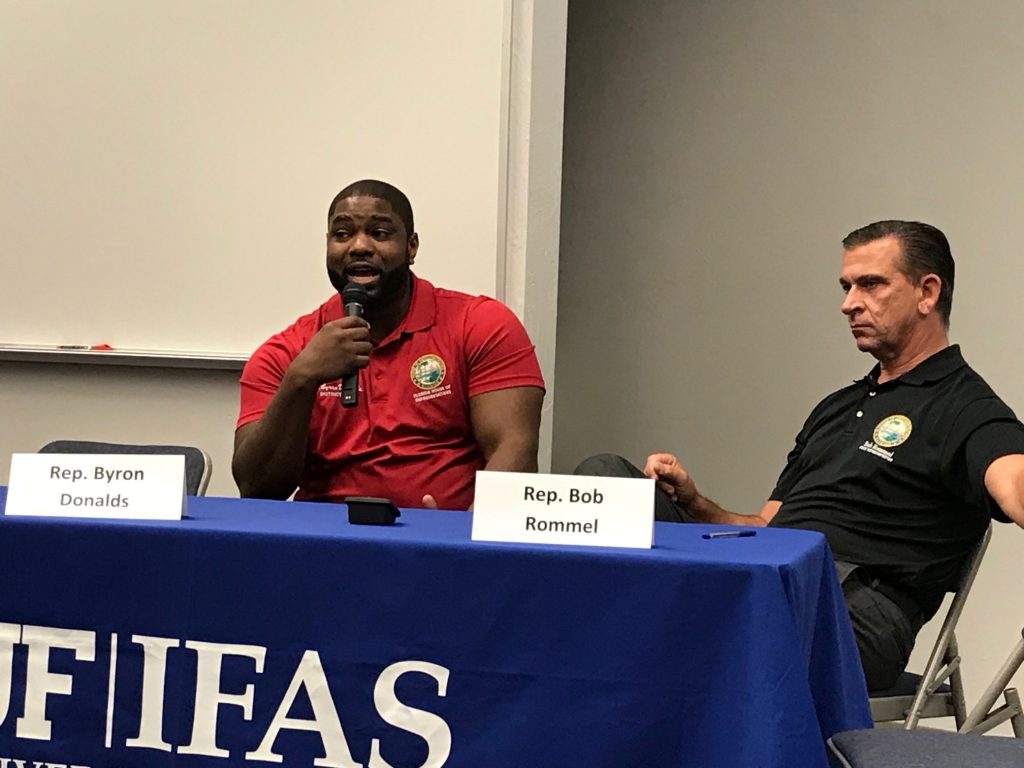 By Ernie Neff
State representatives Byron Donalds and Bob Rommel met with citrus and vegetable growers at a Dec. 16 discussion in Immokalee about local agricultural issues. The event was hosted by the University of Florida Institute of Food and Agricultural Sciences (UF/IFAS) Southwest Florida Research and Education Center.
Donalds said he wants to be sure IFAS recommendations, on which best management practices (BMPs) are based, actually work for growers in the field. He said he and Rommel are educating other legislators that agriculture is not the sole cause of water problems in Florida.
"What you all have to go through to make a living; it is truly amazing," Rommel told the growers. "Farming is a national security issue," he added, saying the government couldn't maintain land for conservation as well as farmers do.
Rommel said the public demands action on water quality issues like red tide and blue-green algae. He noted that he and other representatives are "part-time" legislators who are supposed to become experts on water and other issues. He urged growers to express their opinions to legislators when they see bills coming up that will impact them.
SWFREC Director Kelly Morgan said the two representatives are well versed in agriculture. "They are from the Southwest Florida area," said Kelly. "They actively seek out information from the growers, and that's what they were doing here today, is to have the information that they can base their votes on in the legislature. That's exactly why we want to have these meetings at least once a year on key issues, so that they are well educated."
The program about agricultural issues also included presentations from two UF/IFAS researchers discussing the success of the BMP program in the Everglades Agricultural Area and payment for water storage and treatment services in the northern Everglades. Additionally, a citrus grower and a vegetable grower talked about BMPs their companies use.